Whistleblower Retaliation
Los Angeles Whistleblower Retaliation Attorney
Orange County — Los Angeles — Long Beach — Redondo Beach — Hermosa Beach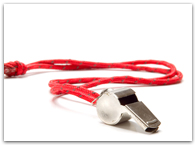 California employers are legally bound to respect their employee's legal rights. Even when an employee questions illegal workplace activities, the employer cannot legally retaliate. When retaliation occurs, an employee may be entitled to financial compensation through the legal process.
There are five types of illegal whistleblower activity:
If you merely informed your company that it has broken the law, it is legally forbidden from firing you in retaliation.
Refusal to participate in a prohibited activity. Has your employer committed an OSHA violation, hired illegal aliens, failed to pay taxes or dumped toxic waste? Your employer cannot legally punish you for refusing to participate in illegal activity.
Reporting an employer to a government agency regarding a violation. Has your company terminated you for turning it in for hiring illegal aliens or for another violation? You may have a claim.
Qui tam issues , in which employees can sue based upon the employer's fraud upon or misuse of government funds. In Qui tam cases, the employee receives a portion of the recovered funds.
If your employer retaliates against you after you file an internal complaint for harassment or discrimination, it has broken the law and violated your rights as an employee.
At Lyon Law, employment attorney Geoff Lyon has experience representing victims of whistleblower retaliation. We have helped dozens of employees who made honest efforts to report or prevent illegal business activities. Recent whistleblower cases we have handled include:
Our client's employer provided benefits to employees with the stipulation that an employee provide false tax information to the government regarding the benefits. Our client refused to sign the false tax forms and was fired after first being deprived of her work responsibilities. We settled the case for a substantial five-figure sum.
Our client was stripped of responsibilities and later fired for complaining that the company was hiring undocumented workers. The case settled for over $100,000. (Past results are not a prediction or guarantee regarding the outcome of your matter.)
Contact Us
It is important to get exceptional legal guidance before making any decisions regarding your possible employment law case. Our consultations have no charge and you don't pay us anything unless you win. We will also advance any legal fees and expenses necessary for your case. You can contact us during business hours or make a special appointment if you need us to accommodate evening or weekend appointments. We are located just off the 405 freeway. To contact us call (562) 426-2112 or through this website via the box conveniently found on the upper left-hand corner.