Unpaid Commissions
Unpaid Sales Commission Attorney Los Angeles
Unpaid Compensation — Unpaid Wages — Sales Representatives Commissions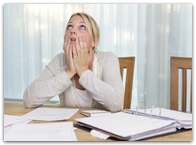 One aspect of an unpaid wage case may be the fact that a sales person is missing commissions that they are owed from sales that they made. It is a violation of state and federal employment laws to withhold that compensation, or any compensation, during the course of employment.
If you find yourself having been slighted the money you are owed for commissions, turn to our staff at Lyon Law in Los Angeles. Our firm focuses on handling unpaid sales commissions and other employment law issues for clients located in L.A. and throughout the surrounding areas of California. Leading our firm is attorney Geoff Lyon who has over 15 years of experience handling hundreds of employment law cases for employees.
Are you missing the money you are owed from an unpaid sales commission? We can help you seek the compensation that you worked so hard for. Contact Lyon Law at (562) 426-2112 for experienced legal help.
There are many different types of unpaid wage situations that may lead to a claim for unpaid sales commissions, including:
Closed a major deal and did not receive the correct commission payment
Landed the sales project, arranged meetings, closed the deal and performed the majority of the work for the project - but are told the project was a team effort
Failed to receive a contractually specified bonus or commission
If your employer is found to be liable for withholding compensation and unpaid sales commissions, there are laws that may provide compensation for you in excess of what was originally owed. Your legal fees may also be paid by the employer if your employer's refusal to pay your sales commission was made in bad faith.
It is important to note that you cannot waive your right to employment compensation or sales commissions by signing a contract. Your employer is obligated to pay you according to the regulations of the business and the laws that govern the way in which they treat and pay employees.
Contact Us
It is important to get exceptional legal guidance before making any decisions regarding your possible employment law case. Our consultations have no charge and you don't pay us anything unless you win. We will also advance any legal fees and expenses necessary for your case. You can contact us during business hours or make a special appointment if you need us to accommodate evening or weekend appointments. We are located just off the 405 freeway. To contact us call (562) 426-2112 or through this website via the box conveniently found on the upper left-hand corner.