Unpaid Wages
Unpaid Wage Lawyer Los Angeles
Orange County — Redondo Beach — Hermosa Beach — Los Angeles County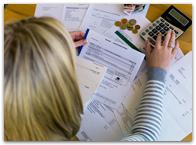 The law is clear. Everyone who works four hours must get a ten-minute break, and everyone who works over five hours must receive a half-hour lunch break. In addition, employers must document the lunch break on employees' time records.
Disregarding definitive and established laws, many California employers willfully defy wage, lunch and break-time laws, profiting from unpaid labor while infringing upon employees' labor rights. At the Los Angeles, California, employment law and unpaid wages law firm of Lyon Law, we work to enforce wage-and-hour laws and help employees receive financial compensation when their rights have been abused.
The vast majority of employees must be paid by the hour, rather than on salary, and must be paid time-and-one-half whenever they work 8 hours in one day. Many employers label employees as "managers" to avoid paying overtime. If you typically spend less than one half your time at work supervising others, you may well be entitled to overtime pay and can file a lawsuit as an individual. When many employees are misclassified, a class action lawsuit may be appropriate.
Is your employer making you work over 8 hours on "salary" even though you spend little or no time managing others? Do you have questions regarding your right to rest and lunch breaks during your work shift? We can help. Contact Lyon Law at (562) 426-2112 for experienced legal help.
In addition to rest break and lunch break violations, unpaid wage issues can involve:
Overtime pay
Vacation pay
Final paychecks
Waiting time
Misclassification of exempt and non-exempt employees
At Lyon Law we fully understand every aspect of employment scenarios involving unpaid wages. Do you suspect you should be classified as non-exempt so that you can be eligible for overtime pay? Has your employer refused to honor vacation pay agreements, or delayed your final paycheck? We have helped numerous individuals and groups win settlements against employers, forcing employers to admit error, change and honor policies, and pay compensation.
Contact Us
It is important to get exceptional legal guidance before making any decisions regarding your possible employment law case. Our consultations have no charge and you don't pay us anything unless you win. We will also advance any legal fees and expenses necessary for your case. You can contact us during business hours or make a special appointment if you need us to accommodate evening or weekend appointments. We are located just off the 405 freeway. To contact us call (562) 426-2112 or through this website via the box conveniently found on the upper left-hand corner.