Pregnancy and Maternity Leave and Disability
Los Angeles Maternity Leave Attorneys
Long Beach — Orange County — Burbank — Glendale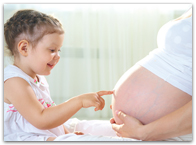 Working during the last stages of pregnancy is difficult at best, and in some cases your doctor will advise against it. This is no time to have to fight with your employer, or face termination or retaliation, for exercising your legal right to pregnancy leave.
At the Long Beach and Los Angeles, California, law firm of Lyon Law, we have helped hundreds of Los Angeles- and Long Beach-area mothers and fathers fight for the pregnancy and maternity leave rights they are entitled to under federal and state law.
Has your employer refused to the pregnancy leave, bed rest, child-bonding and pregnancy recovery time that the law grants you? Do you have questions regarding your rights? We can help. Contact Lyon Law at (562) 426-2112 for experienced legal help.
Californians have vast pregnancy and maternity leave employment rights. Three acts—the Family Medical Leave Act (FMLA), the California Family Rights Act (CFRA) and the Pregnancy Disability Leave Law (PDLL)—each provide 12 weeks of leave. Employees are entitled to the maximum leave-time calculation available under the combination of both federal and state law. In situations involving prenatal care, bed rest and post-birth child-bonding time, employees may be entitled to a total of 36 weeks of pregnancy and maternity leave.
Californians Also Enjoy Substantial Disability Leave Rights
California disability laws apply to a broad range of situations. Do you have a medical condition? Are you temporarily disabled from working? Does a family member face difficult medical issues? Is your parent being transferred into a hospice? Do you need time off following a workers compensation case and injury? We can help protect your rights to disability leave when work demands and family medical issues collide.
Contact Us
It is important to get exceptional legal guidance before making any decisions regarding your possible employment law case. Our consultations have no charge and you don't pay us anything unless you win. We will also advance any legal fees and expenses necessary for your case. You can contact us during business hours or make a special appointment if you need us to accommodate evening or weekend appointments. We are located just off the 405 freeway. To contact us call (562) 426-2112 or through this website via the box conveniently found on the upper left-hand corner.