Age Discrimination
Los Angeles Age Discrimination Attorney
Orange County — Los Angeles County — Torrance — Burbank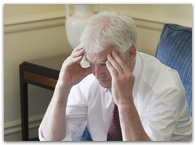 Age discrimination is common in the workplace, and evidence of its existence can be subtle. How can you determine whether the treatment or change in employment you have experienced at work relates to your age? And who can investigate your situation, apply 30 years of employment law experience to the facts, and provide aggressive legal help?
At the Long Beach and Los Angeles, California, employment law firm of Lyon Law, attorney Geoff Lyon has handled many cases involving employees in the Los Angeles area who suspected age discrimination at work. Mr. Lyon is a member of the California and National Employment Lawyers Associations, has appeared in court approximately 1,000 times, and has taken numerous cases to trial. If you face age discrimination at work, we can help.
Do you have questions regarding workplace age discrimination? Do you suspect you may have a legal claim for compensation? Contact Lyon Law at (562) 426-2112.
Many reasons are given by employers for actions taken against older people, and their actions are often illegal. For instance:
Is your company downsizing? Older people often make more money than their younger colleagues, and age discrimination is a common way to trim the budget.
Are you older and ill, or do you have an ill family member? Employers sometimes see older people who are ill or who have ill family members as "unreliable" or "disloyal" employees who drive up company medical expenses.
Often, an employer's decision is based on age bias: shifting an older employee to an unfavorable schedule, removing responsibilities, voicing excessive criticism or suddenly drafting poor performance reviews. To learn more about whether your rights have been violated and whether you may have a claim for age discrimination, contact our firm for a no-charge discussion.
Contact Us
It is important to get exceptional legal guidance before making any decisions regarding your possible employment law case. Our consultations have no charge and you don't pay us anything unless you win. We will also advance any legal fees and expenses necessary for your case. You can contact us during business hours or make a special appointment if you need us to accommodate evening or weekend appointments. We are located just off the 405 freeway. To contact us call (562) 426-2112 or through this website via the box conveniently found on the upper left-hand corner.