Race, Ancestry, National Origin and Color
Los Angeles Racial Discrimination Attorney
Harassment and Discrimination Based on Race, Ancestry, National Origin or Color
You Do Not Have to Tolerate Racial Discrimination and Harassment in the Workplace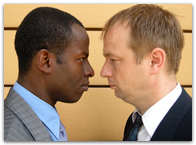 Discrimination and harassment relating to race, ancestry, national origin and color can take many forms. Whatever the reason behind the unfair treatment, workplace discrimination is illegal and you have a legal remedy.
Harassment can involve rude or offensive:
Behavior
Language
Slurs
Jokes
Pictures
E-mails
Videos
Comments
Visual displays
Discrimination can involve adverse employment actions such as:
Termination
Denial of a promotion
Demotion
Refusal to hire
Excessive and unfair criticism
Reduced hours
Bad schedules
Assignment to menial or dirty tasks
Removal of responsibilities
Transfer to dead end positions
False or unfair write ups
At the Los Angeles, California, employment law firm of Lyon Law, we have successfully represented dozens of individuals in discrimination and harassment claims based on race, ancestry, national origin and color. Representative cases that firm attorney Geoff Lyon has handled include:
Our client worked in a warehouse environment where the "n" word was used between African-Americans. The case resolved for over $100,000.
We represented numerous employees of a California company. Multiple offensive references to African-Americans and Hispanics were used repeatedly in the workplace. The cases involved multiple settlements between $100,000 and $200,000.
If you believe you have experienced illegal racial discrimination or harassment at work due to race, ancestry, national origin and color, contact our firm. In a no-charge discussion of your case we can explain your legal options and recommend a course of action, and provide comprehensive legal representation should you choose our firm to handle your claim.
Contact Us
It is important to get exceptional legal guidance before making any decisions regarding your possible employment law case. Our consultations have no charge and you don't pay us anything unless you win. We will also advance any legal fees and expenses necessary for your case. You can contact us during business hours or make a special appointment if you need us to accommodate evening or weekend appointments. We are located just off the 405 freeway. To contact us call (562) 426-2112 or through this website via the box conveniently found on the upper left-hand corner.