Sexual Harassment and Discrimination
Los Angeles Sexual Harassment Lawyer
Orange County — Los Angeles County — Los Angeles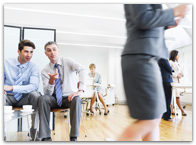 Though sexual harassment and discrimination occur frequently, such personal violations usually come as a terrible shock to those whom they affect. When the confusion diminishes, an important question remains — "what are my legal rights when I have been sexually harassed and discriminated against at work?"
At the Los Angeles, California, employment law firm of Lyon Law, we have dozens of cases involving sexual harassment and sexual discrimination.
Do you have questions regarding acceptable behavior at work? Do you suspect that you may have a legal claim for compensation following an instance of sexual harassment or discrimination? Contact Lyon Law at (562) 426-2112.
At Lyon Law, employment law attorney Geoff Lyon can meet with you and provide counsel and full legal representation regarding your rights in a potential sexual harassment and discrimination case.
Generally there are two types of sexual harassment:
Harassment involving rude or offensive language, touching, jokes, pictures, e-mails, comments or displays, or repeated requests for dates
"Quid pro quo" harassment, in which a superior demands sex for employment benefits like a promotion, a raise, a job or continued employment
It is important that you obtain knowledgeable legal advice before you proceed with a case, or decide that you do not have a case. Even light touching of some body parts is classified as sexual battery. The timing of employment termination is strictly governed by law, and retaliation for resisting inappropriate activity is unlawful.
For instance, in a recent case, a superior developed a relationship with a direct report at work. When the subordinate felt pressured to continue the relationship and so terminated it, she was fired a few weeks later. We resolved this case out of court for a substantial sum. To learn more about your rights in any sexual harassment or discrimination situation, contact our office for a no-charge discussion.
Contact Us
It is important to get exceptional legal guidance before making any decisions regarding your possible employment law case. Our consultations have no charge and you don't pay us anything unless you win. We will also advance any legal fees and expenses necessary for your case. You can contact us during business hours or make a special appointment if you need us to accommodate evening or weekend appointments. We are located just off the 405 freeway. To contact us call (562) 426-2112 or through this website via the box conveniently found on the upper left-hand corner.