Wrongful Termination
Los Angeles Wrongful Termination Attorney
San Fernando Valley — Los Angeles County — Orange County — Long Beach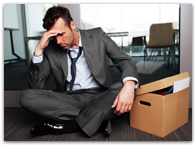 Termination of employment based on factors such as race and sexual orientation, or in retaliation for reporting employer legal infractions is all too common. It is also illegal.
At the Long Beach and Los Angeles, California, employment law firm of Lyon Law, we have settled dozens of wrongful termination actions for individuals fired illegally and unfairly from their jobs.
Were you fired by your employer? Do you have questions regarding whether your termination was fair and legal? Contact an experienced attorney at (562) 426-2112.
At Lyon Law, attorney Geoff Lyon has handled over 100 employment law cases. We can fight your wrongful termination if you were fired because of:
A medical condition, pregnancy or a disability
For reporting sexual harassment against yourself or a coworker
Race, ancestry, national origin, age, religion or color
Sexual orientation
Retaliation for taking medical or disability leave under the Family Medical Leave Act
Whistleblower retaliation
Marital status
Wrongful termination laws apply in unexpected circumstances. For instance:
If the reasons given for your termination were false, then the true reason may well be an illegal reason
If you were injured, took time off and were fired weeks or months later, you may have a claim, regardless of whether or not the injury is work-related
If you took time off work to care for a sick child, spouse or parent and were later fired, you may have a claim
If friction with a new manager resulted in termination, you may have a claim
If you were fired for attending a parent/teacher conference during work hours you may have a claim
Do Not Risk Your Rights by Delaying Your Claim
We can conduct a full investigation through the legal discovery process, including interviews with former co-workers. However, it is important that you contact us soon. While some wrongful termination rights remain in effect for up to two years, many valuable rights are lost after one year. To schedule a no-charge discussion of your case, contact our office.
Contact Us
It is important to get exceptional legal guidance before making any decisions regarding your possible employment law case. Our consultations have no charge and you don't pay us anything unless you win. We will also advance any legal fees and expenses necessary for your case. You can contact us during business hours or make a special appointment if you need us to accommodate evening or weekend appointments. We are located just off the 405 freeway. To contact us call (562) 426-2112 or through this website via the box conveniently found on the upper left-hand corner.